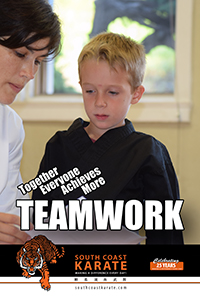 Student Of The Month: Easton Knabke
who  trains at our GVCCDojo. To receive this award students demonstrate outstanding character in Trustworthiness Responsibility, Caring Fairness & Respect.
Proud Parents Adina & Ken: "We are so proud of Easton!  He is a sweet, shy, courageous little boy.  He loves horses, dinosaurs, camping, wrestling with his dad, and is so excited to become a big brother. Karate has been amazing for Easton, as it has helped him to become a better listener, taught him about respect, and is building his confidence. Easton tries hard to do well and it means the world to him when he succeeds at what he is doing!  We love you so much!"
Teacher: Ms. Katie "Easton is a sweet little boy, with a wonderful imagination.  I love his funny stories!
."
Congratulations Easton!
Your Proud Sensei,
Brian Jordan