At South Coast Karate we believe strongly in education and have helped local schools raise thousands of dollars over the last 25 years through donations for auctions and karate parties.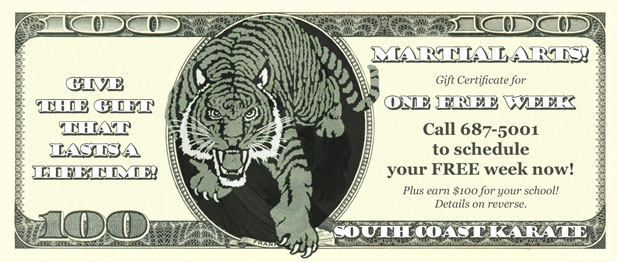 Now we're asking for your help to take it to a higher level! Sign up for your first month now in our program for $99 and we'll donate 100% + $1.00 of that first month payment to benefit your Child's School or Safety Town! No Gimmick! No Contract! Simply Us "Making A Difference Every Day!"
Contact us so we may help your school raise needed funds! 
South Coast Karate is truly a partner in our community. We volunteer and participate in many local events such as Safety Town, SB Cancer Center Walk/Run, National Make A Difference Day, I Madonnari, California Lemon Festival, Santa Barbara Downtown Holiday Parade, Children's Fiesta Parade, Los Padres National Forest Trails Day, Santa Barbara Bike and Tour Fest for Multiple Sclerosis.