South Coast Karate has been recognized for outstanding effort and participation in our community by such groups as KEYT's "Children First" and the Independent, winner of "Best Martial Arts Studio" 4 years in a row, Santa Barbara Downtown Organization ("Winner of Most Spirited Entry" 5 years and Best Performance 1 year), Los Padres National Forest Service, Santa Barbara Multiple Sclerosis Society, Children's Creative Project, Goleta Chamber of Commerce, National Make a Difference Day and the City of Santa Barbara.
---
Brian Jordan – Chief Instructor / Founder
South Coast Karate
35+ years ago Sensei Jordan started his formal training in the small town of South Berwick, Maine with a group of Okinawan Goju-Ryu practioneers lead by Sensei Dan Greenlaw. 10 years later arriving in Santa Barbara, Ca. He started specializing in the instruction of children and soon founded South Coast Karate and developed a special program which became the acclaimed "KID POWER" program for kids 5 – 13 years of age. At this same time Sensei Jordan began training under Shihan Russ Olson who shared his wealth of experience and introduced several other teachers from other styles to train with. It was a time of great growth and fun, that continues as friendships have developed. In 2004 Sensei Jordan developed another specialized program called Tiny Tigers for children 3 – 6 years old and this has become another quality program building character in today's kids
---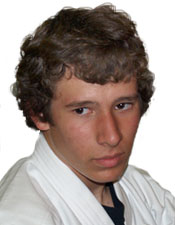 Austin Elovitz – Lead Instructor
12+years ago Austin began his training at our Buellton dojo and quickly worked his way up as an Assistant Instructor. After taking some time to explore boxing and other arts we are very happy to have him back as our lead instructor, He has been instrumental in the restructuring of our program, which we considered to be in the Beta stage, which we have chosen to mean developing and improving at all times!
---
Anthony Sanchez
20+ years ago Anthony entered the dojo and it was easy to see he was destined to be a Black Belt! Sensei Anthony can be found teaching all levels at many of our locations including the after school programs along with being our lead instructor at our main Goleta dojo. One of Sensei Anthony's many specialties is wowing the students with his aerial performances!
---
Emily Jensen
15+ years of training and it's easy to see the pride she takes in have earned her black belt. She became attracted to karate after watching one class in the second grade and has been hooked since. Emily has grown enormously from training, and more recently, teaching. Emily will continue studying karate when she transitions to college at McGill University.
---
Michael Plotkin
16+ years taking an active part in classes, camps, tournaments and South Coast Karate community service.  Sensei Michael also has a passion for art and Character Design.
---
Rebecca Plotkin
16+ years training consistently with South Coast Karate. Along with brother Michael, Sensei Rebecca has graduated from UC Santa Cruz and currently involved with AmeriCorps.
---
Chris Martin
23+ years training under Sensei Brian Jordan since he was 5 years old back in 1991. He was the first to be promoted to the title of "Sensei" under Sensei Jordan, and is now the highest ranking student in the school with a second degree black belt. His love for the martial arts has led to a diversified background, taking advantage of knowledge from such styles as kenpo, kali, and Okinawan kobudo. As a teacher, the most important life skills that he strives to instill in his students are discipline, perseverance, and humility. Chris is Currently working on the East Coast.
---
Jocelyn Quick
23+ years ago after watching her kids try their first Kid Power class Sensei Jocelyn decided she might be interested also! While balancing life as a business owner, wife, mother and more she became one of the original 7 to attain the rank of Black Belt! Jocelyn can be found riding her bike to work almost everyday!
---
Jenae Hodges
17+ years with South Coast Karate. Sensei Jenae teaches all levels while specializing in the Tiny Tigers program where her interest in child development gets first hand experience! She is currently studying Child Development and Business Management at the University of La Verne, in order to pursue her dream of a career working with children.
---
Nick Baird
21+ years of training with Sensei Brian Jordan, since he was just 5 years old! Sensei Nick has taught at most of our locations, stretching from Carpinteria to Bulletin on a weekly basis. Even with school and work, he quickly became a familiar face to all the students and parents. Nick is verse in teaching all skill levels and ages, specializing in making personalized karate/workout plans. Sensei Nick takes great pride in being one of the first to start teaching South Coast Karate's Tiny Tiger program! He is currently studying Cinema and Television Arts at California State University Northridge. His love for martial arts has pushed him to learn more – Kung Fu, Aikido, and Boxing, just to name a few. He still enjoys running, swimming, and staying in shape, which is good because Sensei Nick is also training for the rank of Ni Da.
---
Jeff Keough
14+ years ago Sensei Jeff was introduced to South Coast Karate when enrolling his kids and has since attained the rank of Black Belt at the young age of 48! Jeff continues to also enjoy his passion for surfing!