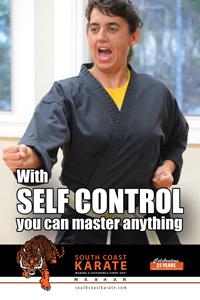 Student Of The Month: Stephanie Ball
who  trains at our GVCCDojo. To receive this award students demonstrate outstanding character in Trustworthiness Responsibility, Caring Fairness & Respect.
Proud Daughter Tiffany: "My mom is such an amazing person! She always try's to help out, even when she has so many things of her own that she has to do. She never gives up when the task is difficult. I'm very thankful to have her in my life."
Stephanie is courageous and has tenacity. She trains hard, always persevering in the face of a challenge. Stephanie comes to class with a positive attitude that is immeasurable and contagious!
Congratulations Stephanie!
Your Proud Sensei,
Brian Jordan